With proudness and happiness we present our beautiful and lovely girl, our biggest hope
SUCH DKCH KBHV-07 DKKV-07 DKJUBV-07
Cruftsqualified -07 Swedish Juniorwinner-06
Danish Breed Winner -07/Standard poodle of the year -08 Denmark

"Wilma"
Born 5th November 2005
Certified free of HD - AA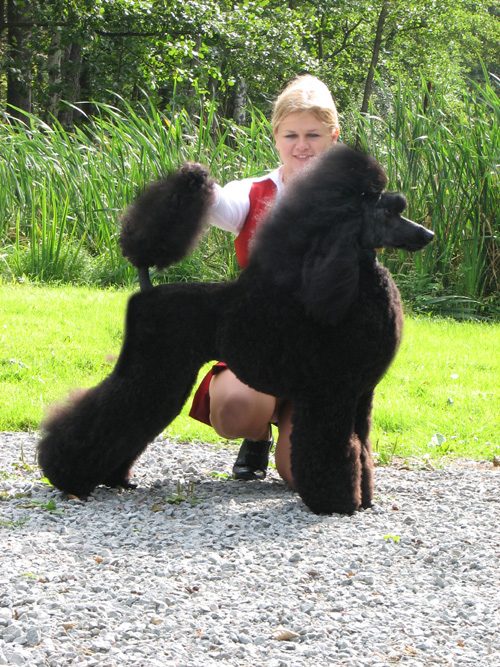 Photo by Stephen Wheeler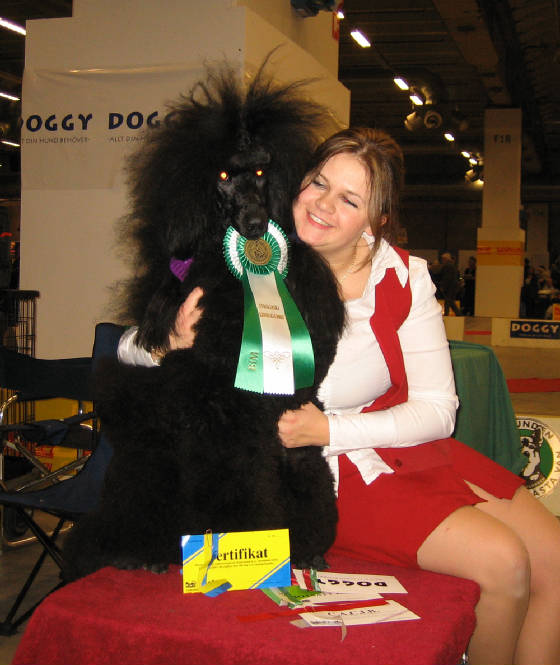 Me & Wilma winning CAC, CACIB & BOS & became Swedish Champion at Malmö international show March 08
SOME CRITIQUE´S FROM WILMAS SHOWS
Excellent type & size, classical head, beautiful eyes, good neck, good body, wellplaced tail, good deep of chest, good angulated back & forward, excellent movements, wellhandled in very good condition, Champion today.
Judge: Folke Hildebrand, Sweden
Very elegant black, lovely head and expression, good reach of neck, compact body, good front, first class movements, a classic bitch and a worthy champion/Lynn Richardsson, Ireland.
Wilma is the poodlegirl we kept from Fia´s last litter. She´s a very lovely poodle with correct type, lots of attitude and style.
The proud sire was even here the topwinning Kaylen´s Reason To Believe "Ross".
Wilma took the rings by storm....
Wilma was danish champion at the age of 21months and at the age of 2years swedish champion.She was BOB and Copenhagen winner 2007, Danish Jubileum winner 2007 and she was even "Standard poodle of the year 2007 in Denmark".
She became International Champion in the Summer of 2008.
She was BOB & BIS 3 Puppy 6monts old at Swedish kennelclub show for Mikael Nilsson, Sweden.
She started her official career in the showring to be swedish juniorwinner-06 and qualified to Crufts 2007.
She is retired from showing.
She is actual in some movies in 2010.
We´re so proud and happy to own and have bred this wonderful girl.
Sire:
DKUCH SUCH USCH
Kaylen's Reason To Believe


USCH
Kaylen's Cadillac Style

USCH
La Marka Nomeol Vides

USCH
Tiara-Kaylens Yours N Mine

USCH
Kaylen's Imagine That

USCH
Bay Breeze "the Outlaw"

La Marka Kaylens Why Not Me Oa Oaj

Dam:
CC-winner DKKV-04 Brammarps Kilisimasi Fiefia


FINUCH FINV-98 INTUCH JEUW-97 KBHJV-97 NORDUCH
Momabo's Pumbaa

NORDUCH
Escorts Quentin Le Blanc

NUCH SUCH
Guldtackan's Flaunty

SUCH
Brammarps Läckra Lisa

INTUCH NORDUCH
Top-Team's Daily-Herald

SUCH
Davinas Pandorah Frost