We present the very promising male with lots of style & attitude
BOB-puppy, BIS 2 puppy

"Tobbe"
Born 28th November 2008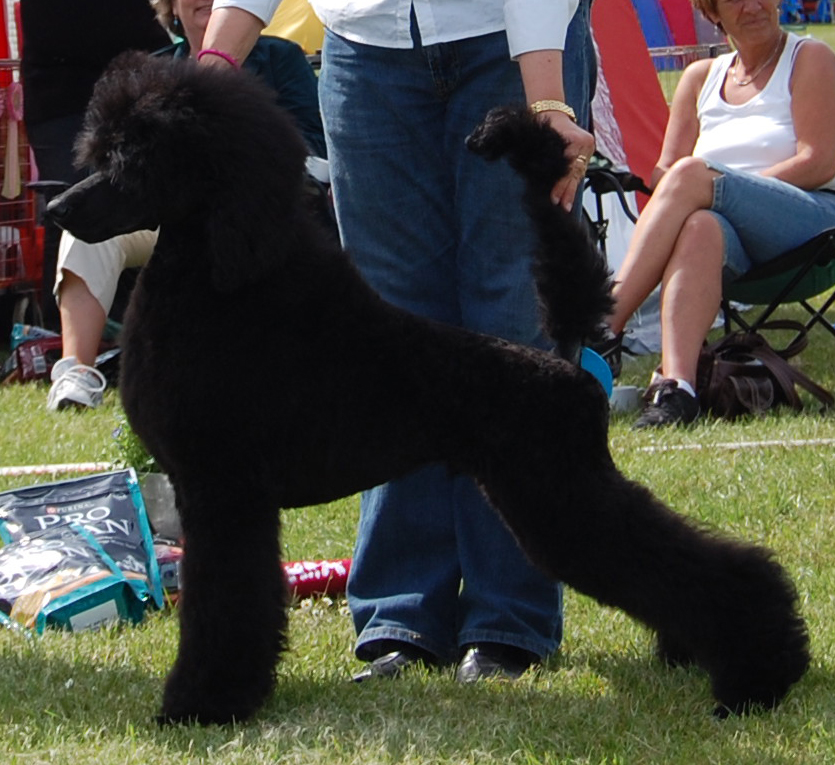 5months old
Tobbe is the male we kept from Ninihill´s Reason To Copyright "Saga´s" second and last litter by us.
This time we chose the lovely black genetic SUCH NUCH DKCH (NORDUCH) Ankaru´s Crack The Code "Diesel". Diesel was Norways topstandardpoodle no 1 in 2008, he has for moment 21xCAC, 17xBOB, 2xBIG 1, 1xBIG2, 1xBIG4, 1xBIS1jr, 1xBIS3, 1xBIS2, 1xBIS4, 3xBIS1.
He was shown first time at Manchester Dog show in UK & CAC & BOB under the judge Mrs.Kim Silito-Beale of the famous Malibu Poodles.
Tobbe lives by us. He is very stylish male with lots of style and attitude. He has long neck and carrying his head very high, he is very well angulated allover with good forechest.
We believe in him! Thanks to Anne at Kennel Ankaru for letting us use his gorgeous father Diesel.
First time out BOB-puppy & BIS 2 Puppy Poodle Special Show, only 5months old at the poodle Special show 17.5.2009.
SUCH NUCH DKCH (NORDUCH) Ankaru´s Crack The Code (Black genetic)

Now showing in UK

DKUCH SUCH
Jawazza This Is Copyright
AUCH
Jawazza High And Low

FINUCH SUCH
Jawazza Dream Catcher Of Apache

DKUCH NUCH SUCH
Hallifax Febee Yo To Ankaru

INTUCH NORDUCH NORDV-00 NV-99
Avatar Concord

Hallifax Willma

Ninihill´s Reason To Copyright

DKUCH SUCH USCH
Kaylen's Reason To Believe

USCH
Kaylen's Cadillac Style

USCH
Kaylen's Imagine That

DKKV-04 Brammarps Kilisimasi Fiefia

Multi CH Momabos Pumbaa

SUCH Brammarps Läckra Lisa